Therapeutics – Stempeucel®
---
Image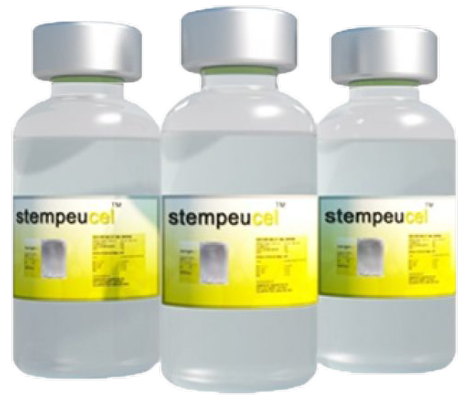 Key Features & Differentiation
Image
The patented production process includes an unique process of multiple cell bank generation from which the Investigational Medicinal Product (IMP) is produced.
Image
The addition of growth factors to culture media at certain passage has resulted in robust cell yield without compromising the quality of the MSCs.
Image
The "master cell bank" or MCB is generated from individual donors comprising of mesenchymal stromal cells that are fully characterized and cryopreserved.
Image
Cryopreserved MCB's are thawed, cultured and expanded for generating a "working cell bank" or WCB. The WCB's are thoroughly characterized according to our extensive QC criteria.
Image
For Stempeucel® production, appropriate numbers of WCB vials are thawed & expanded up to certain passages, harvested & characterized using a variety of parameters.

Image
Image

Critical Limb Ischemia due to Buerger's Disease
Critical limb ischemia (CLI) due to Buerger's disease is a major unmet medical need with a high incidence of morbidity.
Image

CLI due to Peripheral Arterial Disease
Critical limb ischemia (CLI) due to PAD is a severe blockage in the arteries of the lower extremities, which markedly reduces blood flow.
Image

Knee Osteoarthritis
It is also known as degenerative joint disease, is typically the result of wear and tear and progressive loss of articular cartilage.
Image

Diabetic Foot Ulcer
Diabetic foot ulcer is a major complication of diabetes mellitus, and probably the major component of the diabetic foot.
Image

ARDS due to COVID-19 Pneumonia
The most frequent cause of death following COVID-19 infection is Acute Respiratory Distress Syndrome (ARDS), which can be induced by the virus
Image

Peri-anal Fistula
A major complication of Crohn's disease leading to fistulous tracts in the peri-anal region
Product Development Status
Critical Limb Ischemia due to Buerger's Disease
Critical Limb Ischemia due to Peripheral Arterial Disease
ARDS due to COVID-19 Pneumonia
PAF due to Crohn's Disease
*Current status of Clinical Trials: All clinical trials are approved by DCGI
*COVID-19 ARDS trial is on hold due to drop in the number of cases